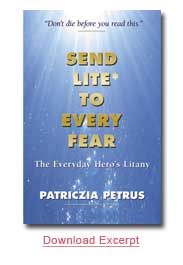 A Message from Patriczia
There's time to live the magnificent adventure intended for you.
You are the creator of all your life experience. That is your gift as a human. You possess the special power to recreate your personal life and carry the planet along with you. This means wealth; respect and rightful position; harmonious, exhilarating relationships; health; real happiness; and a kind of world peace filled with adventure and endless possibilities.
A Bomblet of Wisdom:
It really is possible to transform violence into a vibrant peace.
Transform it for yourself. Transform it for the world.

About the Send Lite Practice
LIGHT IS ALIVE. We are able to use light to transform any negative feeling, thought or experience into never-before-seen beautiful and thrilling ones. It's simply not enough to know this secret. If there can be a practical everyday guide to the secret of creating one's life, you are looking at it.



The book, Send Lite To Every Fear
, reminds you of the heroic, creative being you are and defines a Practice to overcome every thought, feeling or experience that would have you believe differently. There needs to be a practice that deletes this mental spam and transforms obstacles.
This is the guidebook.